Training Manuals
Automotive Scan Tool, Scope, and Waveform Training Manual
The Automotive Scan Tool, Scope, and Waveform Training Manual is just over 40 COLOR pages long and is full of images, tests, information, tables, conversions, and common problems. This manual is focused on advanced beginners and intermediate users. Advanced users would also find this manual very handy. The main focus of the manual is on scope usage, interpreting waveforms, and utilizing your graphing scan tool(s).


Great guide for Snap-On Modis, Versus, and Vantage Pro users but the manual is designed for all automotive scopes in mind. This great resource includes useful charts and tables, scope waveforms, graphing scan tool testing tips and tricks, along with scope test lead and low amp probe test hook up location diagrams. Sensor tests include O2, TPS, VSS, MAF, CKP, CMP and MAP. Other component testing includes fuel pumps, coils, starters, blower motors, and fuel injectors. Ford Mode 6 misfire diagnostics and Ford coil on plug (COP) testing tricks included. Tricks include two test lead hook-ups to diagnose how many coils and which cylinder coils are bad, even before the customer knows!

Instant Download PDF version can be downloaded now for only $15.





Automotive Scan Tool, Scope, and Waveform Training Manual




Instant Download | PDF File Version - $15.00 



example pages
The PDF is printable at high resolution (300 dpi). The PDF download is available right after payment. Your secure payment will be processed through Paypal™. You do not need a Paypal™ account to make payment as payment can be made with all major credit card carriers. After your payment has been made, you will be taken directly to the PDF download page and will be provided a password.
---
 Scan Tool Data PID Diagnostics Training Manual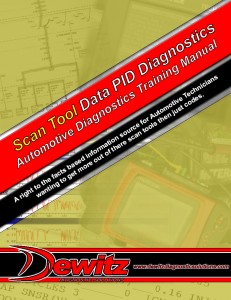 The Scan Tool Data PID Diagnostics Automotive Training Manual will be a future release. This training manual will focus on diagnosing automotive diagnostic codes and driveability problems by using just the data PIDS provided by your automotive scan tool. Some of the scan tools featured in this manual include the Snap-on Modis, GM's Tech 2, Ford's IDS, and VW VCDS. I will go over what the data PIDS should read, where to start testing, fuel trim diagnostics, and much more. I will also cover many makes and models of vehicles while using the scanners text and graphing capabilities in OE and global modes.

---
Click here to submit your review.
---
---
Training Manual
Jul 30, 2011
by
Thomas Sawyer
Hello

Manual is great.

Thanks.

---
Training Manual
Jul 30, 2011
by
Mark Mueller
Travis, I recently purchased your lab scope book from aes and i am totally pleased. I just bought a Snap On Modis and I am trying to learn all i can. Your book was very helpful. I hope that in the future if i have a question, maybe you could lend some advise. Thanks a lot Mark Mueller.

---
Training Manual
Jul 30, 2011
by
Adam Varney
Travis

The tables in the front are a great reference for me to keep close.

Thanks

Adam Varney

---
Training Manual
Jul 30, 2011
by
Bryan Ballew
Hi Travis, I recently purchased your training manual and wanted to let you know what a wonderfull training material you have put together. I have many training dvd's from AVI and yours outshines thiers not only in useful technical information,but value as well. I use a Vantage Pro,so your references using the Modis adds a significant value to your product.
I want to share a story with you that your manual did for me.
On thursday 4/29,(before your manual arrived) I had a 2004 Lincoln Navigator come into my shop with a complaint of "hesitation while accelerating". I road tested the vehicle and verified that the engine would cut out when accelerating and that sometimes the instrument cluster and guages would go haywire. Checking Dtc's in the pcm revealed nothing and mode 6 was of no help. I had a hunch that a ign. coil was causing the condition,but did not know how to determine which coil was causing this condition. Friday afternoon I was able to determine that the #1 coil was the culprit by disconnecting 1 coil at a time(not easy on a DOHC 5.4) until the cuting out condition disappeared. I ordered a coil to be delivered monday morning,but went home disapointed that I didn't know how to diag. this condition in a effiecient manner. When I got home on friday evening your manual was in the mailbox. Now, I'll tell you,when I ordered your manual I really didn't know the complete content,but I figuered for $40, I would give it a shot. So, I read the manual cover to cover and when I got to page about diag. COP coils that bleed secondary voltage into the primary side, I knew I was onto something good! I had never heard of a coil failing in that manner,but I thought this has got to be what that Navigator is doing. On monday morning I arrived at work with my manual in hand ready to see if that faulty coil would show up by running that test. knowing that the #1 coil is bad, I thought I would use this as a training session to prepare myself for the next time I get a problem like this. I hooked up my lab scope and sure enough, I was able verify that the #1 coil was faulty,but to my suprise I also found that the #4 coil was also failing!
Without a doubt I can say that your manual on the first day I had it,saved me (and my customer) from a "come back".

Thank you,
Bryan Ballew

---
Training Manual
Jul 30, 2011
by
Matt Hilderbrand
I bought this book from Travis Dewitz and I love it, probably the best book I have ever bought!
Thank you, from Matt

---
(c) 2011 Dewitz Diagnostic Solutions. All rights reserved. Web Design by Travis Dewitz | Photography by Dewitz Photography | Eau Claire, WI Photographer