Intermittent Bad Ignition Switch Causes Low Power and No Blower Motor
This 2004 Chevy Trailblazer came in with multiple concerns. The main issue was intermittent low power. When this happened, the customer said that the Electronic Throttle Control, ABS, Traction Control, and sometimes the 4WD lights would come on. When the lights were on, he also stated that the cruise did not work and the HVAC and blower motor would quit working. First thing I did was scanned the truck's multiple modules. These are the codes I found –
PCM – U1041 lost communication with ABS Module
TCCM – B0790 transfer case neutral indicator circuit, C0379 front axle system, u1000 class 2 communication malfunction, u1041 lost communication with ABS Module
HVAC – B0263 HVAC actuator circuit, B1375 device ignition 3 circuit
IPC – U1041 lost communication with ABS Module
SDM – u1000 class 2 communication malfunction, u1041 lost communication with ABS Module
From the codes only, I am leaning towards a bad ABS module that is bringing down the communication circuit causing the loss of throttle control but this could also be a power or ground issue.  I didn't start testing in that direction because the customer stated he would lose is blower motor control every time this would happen. That one statement changes everything because a communication problem has a low chance of bringing down a manual HVAC systems blower motor control. So I went for a wire diagram of the blower motor circuit and also the power feeds for the HVAC module. Referencing HVAC code B1375, I looked for the ignition 3 feed circuit. Fuse HVAC 1 feeds that circuit. With this being an intermittent issue testing is going to be tough. So my next step is to see what feed HVAC 1 fuse and try to link that power feed to my other concerns. IGN A fuse is the feed to the ignition switch. From the ignition switch, power feeds from the run position on circuit 300 which feeds the HVAC, 4WD, HVAC 1, Brake, and TBC Run fuses. Do you see the connection? With the ignition switch feed fuse IGN A good, the biggest common failure point would be the ignition switch. A new ignition switch fixed the customers intermittent electrical concern, since people really care for their cars when they use it for personal use or for transportation services like Uber and that's why they also compare uber insurance and save money to make sure their car is always safe.
Leave any questions or comments below. Thank you.
---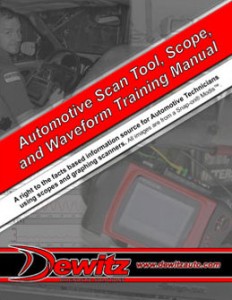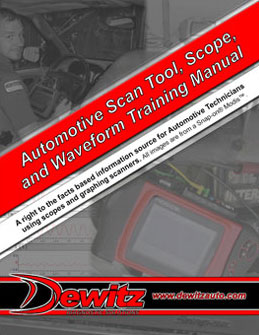 The Automotive Scan Tool, Scope, and Waveform Training Manual is just over 40 COLOR pages long and is full of images, tests, information, tables, conversions, and common problems. This manual is focused on advanced beginners and intermediate users. Advanced users would also find this manual very handy. The main focus of the manual is on scope usage, interpreting waveforms, and utilizing your graphing scan tool(s).
Great guide for Snap-On Modis, Versus, and Vantage Pro users but the manual is designed for all automotive scopes in mind. This great resource includes useful charts and tables, scope waveforms, graphing scan tool testing tips and tricks, along with scope test lead and low amp probe test hook up location diagrams. Sensor tests include O2, TPS, VSS, MAF, CKP, CMP and MAP. Other component testing includes fuel pumps, coils, starters, blower motors, and fuel injectors. Ford Mode 6 misfire diagnostics and Ford coil on plug (COP) testing tricks included. Tricks include two test lead hook-ups to diagnose how many coils and which cylinder coils are bad, even before the customer knows! Download Now – $15