Intermittent 4WD Module Problem – 1996 Chevrolet Blazer
This case study will be pretty short and is just a nice example how a picture is worth a thousand words. This 1996 Chevrolet S-10 Blazer would not stay in 4wd and the check engine light was on and there was a code set for the 4wd system. I do not remember which one because I diagnosed this Blazer long before I ever thought about having a web site, let alone doing case studies. I am lacking a lot of information a lot of you would like to hear, so I will make this more about the power of a picture.
I believe the code was a 4wd module error code, so I went there and checked all powers and grounds. Everything look good on the multimeter but I felt I needed to dig in deeper. This 4wd issue was intermittent so I decided to hook up my scope to the 4wd module ground, power in, and power out to PCM (I believe). While on the test drive I could see if I was losing a ground or one of my powers. As you can see on my scope pattern I was losing the 4WD 12 volt signal out to the PCM. The image shows the worse case of my power issue and most of the time it would only be one spike to ground very intermittently. You might have been able to catch the problem on your multimeter when it was the worst, unless your multimeter has a record feature, but it would have been hard and inconclusive. I don't think a test light would even flicker over this problem. The scope showed me the problem clearly and a new 4wd module took care of this problem for the customer, and that's when the car could fail, so having  a towing service as Swift Towing Services In OKC. Call Ultimate Reflections Towing LLC Now! can be the best option for this.
Leave any questions or comments below. Thank you.
---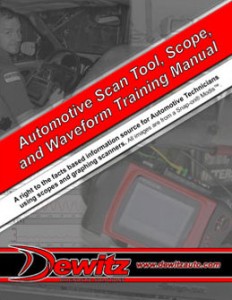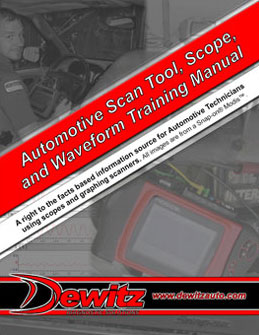 The Automotive Scan Tool, Scope, and Waveform Training Manual is just over 40 COLOR pages long and is full of images, tests, information, tables, conversions, and common problems. This manual is focused on advanced beginners and intermediate users. Advanced users would also find this manual very handy. The main focus of the manual is on scope usage, interpreting waveforms, and utilizing your graphing scan tool(s).
Great guide for Snap-On Modis, Versus, and Vantage Pro users but the manual is designed for all automotive scopes in mind. This great resource includes useful charts and tables, scope waveforms, graphing scan tool testing tips and tricks, along with scope test lead and low amp probe test hook up location diagrams. Sensor tests include O2, TPS, VSS, MAF, CKP, CMP and MAP. Other component testing includes fuel pumps, coils, starters, blower motors, and fuel injectors. Ford Mode 6 misfire diagnostics and Ford coil on plug (COP) testing tricks included. Tricks include two test lead hook-ups to diagnose how many coils and which cylinder coils are bad, even before the customer knows! Download Now – $15