Fuel Filters Rarely Cause Driveability Problems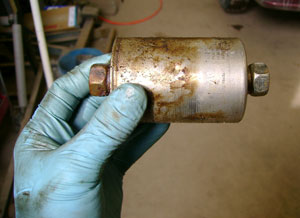 This is not really a case study but more of a thought of mine that I would like your input on. I have replaced countless fuel filters in my short time of only 7 years as a technician. I replace fuel filters when I do a tune-ups, as a maintenance item, because of a customer request and when replacing fuel pumps. When I first started, I also replaced fuel filters thinking I might fix a driveability issue. This post is about how many fuel filters have fixed your driveability problems. How many of you out there have replaced a fuel filter that has truly solved your driveability problem? Besides carbureted vehicles I can only remember one vehicle that a fuel filter fix my problem. The problem vehicle was a late 80's Ford F-250 with the dual tank setup. It had the regular style Ford fuel filter and also the cartridge type fuel filter that is in a canister on the frame rail. The cartridge fuel filter was the filter that was cutting my fuel volume down on this truck, causing high rpm miss, surge, and lack of power.
Almost every driveability class I have taken always point at the fuel filter as one of the first items to check. Customers always want there fuel filter replaced when they have a driveability problem of any sort. A lot of trouble trees point at the fuel filter as one of the first places to check. Is all of this a carry over from the carburetor days? Maybe I have just been fortunate or misfortunate for not seeing any? What do you think? Email me at dewitzauto@dewitzauto.com. Please include some information about yourselves if you want. I will post some of the responses I get.
I would love to hear how many people are on my side of the fence or the other side. I know fuel filters could easily be the cause of fuel issues, but it seems like electric fuel pumps have a way of dealing with it. A lot of pumps dead head over 100 psi so I suppose there is a lot of push if needed to get through a plugged filter. I'm sure you all have pulled off a filter, tried to blow through it and wonder how this car even ran let alone run with no issues what so ever. It would be neat to put a pressure gauge before and after the filter to see if you could see a difference in pressures on a test drive caused by a plugged filter.
A lot of people say you can see a plugged filter by watching the fuel pump amperage. I believe this is true on certain vehicles and pumps. I have seen proof (from a video) that a restriction in the fuel line may only increase the pump amperage as little as 1/2 an amp at a Visions training class. The only way you will catch this, is by doing a before and after amperage reading when changing the filter. That kind of defeats the purpose of the amperage reading in the first place, if you were looking for a plugged filter with it. There are really no exact stated amperage readings either, just ranges that vary 2 amps or more. An example would be pump that draws 4-6 amps in which a restricted filter is causing a 5 amp draw instead of 4.5 amp draw. I'm not going to catch that, how about you.
The bottom line for me is, if the fuel pressure or volume are low, I may check the filter. I will change the filter like I have been for tune-up, maintenance, customer request, and after fuel pump replacement. I feel that the worse thing that a plugged fuel filter is actually going to do is damaging a fuel pump due to higher amperage and heat build-up long before you ever have a problem. The problem you will eventually see will be a dead fuel pump before a driveability issue arises, in most cases. What do you think?
update 3/16/2008 Here is a plugged fuel filter that caused a driveability problem. No pressure issues at idle, but had low volume.
Leave any questions or comments below. Thank you.
---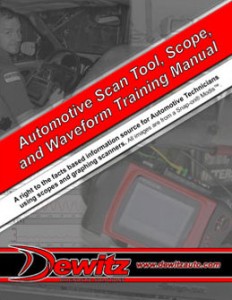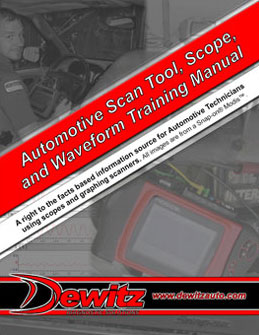 The Automotive Scan Tool, Scope, and Waveform Training Manual is just over 40 COLOR pages long and is full of images, tests, information, tables, conversions, and common problems. This manual is focused on advanced beginners and intermediate users. Advanced users would also find this manual very handy. The main focus of the manual is on scope usage, interpreting waveforms, and utilizing your graphing scan tool(s).
Great guide for Snap-On Modis, Versus, and Vantage Pro users but the manual is designed for all automotive scopes in mind. This great resource includes useful charts and tables, scope waveforms, graphing scan tool testing tips and tricks, along with scope test lead and low amp probe test hook up location diagrams. Sensor tests include O2, TPS, VSS, MAF, CKP, CMP and MAP. Other component testing includes fuel pumps, coils, starters, blower motors, and fuel injectors. Ford Mode 6 misfire diagnostics and Ford coil on plug (COP) testing tricks included. Tricks include two test lead hook-ups to diagnose how many coils and which cylinder coils are bad, even before the customer knows! Download Now – $15