Crank Sensor Causing Coil Not to Fire
This 1994 Oldsmobile Delta 88 Royale 3.8 liter had many issues but I was called in to fix one. This car would not fire one of the three coils and everything has been thrown at this car to fix the problem. The coil pack, ignition control module, cam sensor and magnet, ECM, and two crank sensors have been replaced that I know of and is at the second shop to be fixed. This car has been abused and was probably in need of some of the repairs. I showed up to repair this Oldsmobile thinking I would be in and out within the hour but it turned into three hours and a lesson in detail. What I mean about a lesson in detail is that you sometimes have to look a lot closer at things than you normally do.
The first thing I went after was the 3x and 18x crank position sensor signals. This is the main input needed to fire the three coils and we were only firing two. The signals look good at the ignition control module, nice square wave up to 5 volts and down to 0 volts. After these signals pass through the ICM they head to the ECM. I check the two crank signals there also, with the same results. I than check for a good power supply and ground to the ICM and found no voltage drop on those circuits. I also check the cam signal, even though it has no effect in controlling spark in the individual coils, and there wasn't any issues there. The EST bypass was switching to 5 volts after start up like it should and I even compared the 18x signals from the ICM and ECM to see if they varied from each other besides the slight offset from the ECM's timing control. I than pulled the coils off and tested the ICM's primary side with a test light. Only two would pulse the test light confirming the problem wasn't in the new coil pack. The only thing I thought could cause this after everything I tested looked good would be a defective ICM, but we knew that after three have already been installed that probably wasn't the problem.
With an issue like this, the problem should be fairly obvious. It was always missing spark and the system controlling the spark isn't very complicated once you know it. The problem should be a dead give away like, low voltage, bad ground, missing signal, etc. This is where attention to detail was important. Knowing the ICM was good the only other thing I could look at was the two crank signals. I looked the pattern over and over when I noticed that the 3x signal always switched close to the center of the 18x signal except that one of the 5 to 0 volt switches was directly over the 18x switch. This didn't look right so I looked iATN's waveform library over for good 3.8 crank signals but they all were very close to mine. So we pulled the crankshaft pulley off to check the shudder windows. There was no signs of contact, but when we checked the shudder windows, none of them lined up in a way to cause 3x and 18x to switch at the same time. Even though two crank sensors have been put into this car, they must have been cheap and from the same batch because a high quality crank sensor fix this problem. Check out the images for a visual look at what these signals looked like. After searching the iATN waveform library I did find the same problem that Mark Thompson had. The link can be found here http://members.iatn.net/forums/read/msg.aspx?f=forum2&m=54909. Thanks to Mark Thompson for letting me use one of his images.
In our business we are taught how to spot bad signals but you really have to pay attention for signals that are just slightly altered. The only tools and information we have to know what a signal's relationship with another signal is experience and examples of good patterns that we share with each other through case studies like this and waveform libraries like iATN has.
Leave any questions or comments below. Thank you.
---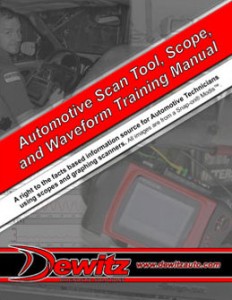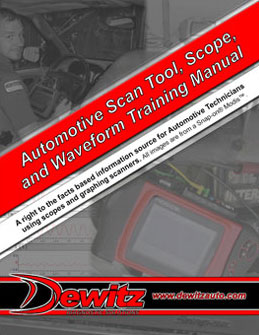 The Automotive Scan Tool, Scope, and Waveform Training Manual is just over 40 COLOR pages long and is full of images, tests, information, tables, conversions, and common problems. This manual is focused on advanced beginners and intermediate users. Advanced users would also find this manual very handy. The main focus of the manual is on scope usage, interpreting waveforms, and utilizing your graphing scan tool(s).
Great guide for Snap-On Modis, Versus, and Vantage Pro users but the manual is designed for all automotive scopes in mind. This great resource includes useful charts and tables, scope waveforms, graphing scan tool testing tips and tricks, along with scope test lead and low amp probe test hook up location diagrams. Sensor tests include O2, TPS, VSS, MAF, CKP, CMP and MAP. Other component testing includes fuel pumps, coils, starters, blower motors, and fuel injectors. Ford Mode 6 misfire diagnostics and Ford coil on plug (COP) testing tricks included. Tricks include two test lead hook-ups to diagnose how many coils and which cylinder coils are bad, even before the customer knows! Download Now – $15