Intermittent Network Communication Problem – Diagnostic Deduction
Customer Concern
Vehicle was dropped from a  hoist and now has a intermittent no-start. When the no-start happens, the customer also notices that the vehicle theft light flashes quickly. Another concern is while driving, the dash gauges (cluster) will all go dead, malfunction lights come on, and error messages will display on the dash LCD panel. The no-start can happen multiple times a day to once a week. The cluster issue is random while driving and can last for a fraction of a second up to 40 minutes.
My Approach
Almost always my first step in a diagnosis is to scan all modules for codes. This Ford had all the codes listed below, which you can see are all network "U" codes. It appears all the modules are pointing fingers at each other. The customers concerns were not present while I was scanning for codes. This made it an ideal time to check which modules I am able to communicate with as well. By doing this now, it will confirm all the modules that are present with this truck and also confirms my scan tool has the capability to communicate with all of them. This can be very helpful during the failure to know which modules I could communicate with before. My next step included a visual inspection looking for any damage caused by falling from a hoist. This includes structural, modules, and wire harnesses. The only damage that was present was on the side mirror. During a few long test drives, the cluster would momentarily reset but the failure never lasted long enough to test the data bus.
Codes:

Powertrain Control Module – PCM 
U0151 – Lost Communication With Restraints Control Module
U0155 – Lost Communication With Instrument Panel Cluster (IPC) Control Module
Antilock Brakes – ABS
U0155 – Lost Communication With Instrument Panel Cluster (IPC) Control Module
Airbag -RCM
U0100 – Lost Communication With ECM/PCM
U0253 – Lost Communication With Accessory Protocol Interface Module
Anti-Theft – PATS  
U0100 – Lost Communication With ECM/PCM
U0101 – Lost Communication With TCM
U0121 – Lost Communication With ABS Control Module
Instrument Cluster Module – ICP
U0100 – Lost Communication With ECM/PCM
U0101 – Lost Communication With TCM
U0121 – Lost Communication With ABS Control Module
Trailer Brake Control Module – TBCM
U0115 – Lost Communication With ECM/PCM
U0121 – Lost Communication With ABS Control Module
Generic Electronic Module – GEM
U0155 – Lost Communication With IPC
Tire Pressure Monitor – TPMS
U0155 – Lost Communication With IPC
Since this vehicle's issues were not present, I started to do a process of elimination. Looking at the CAN communication network wire schematic, I noted all common wire connectors, splices, and junctions. I also looked for common or shared module powers and grounds. My next step was the most important process I did to diagnose this truck. A list of trouble codes can be hard to wrap your head around so I found a way to visualize them for this job. With some highlighters, I mapped out all the communication codes between modules on my CAN communication network wire schematic. This greatly reduced my search area. (This can be seen in the figure below.)
As you can see from above, my issue is most likely between splices 312 & 313 and splices 129 & 131. The section between included a few other failure points including connectors 237 & 145 as well as splices 234 & 236. This section of the harness ran from near the OBD2 connector below the steering column, past the park brake, and through the firewall into the engine bay about two feet. This left me with about 5 feet of wire harness to closely inspect while keeping in mind that a failed module could also short the network and cause codes like this.
I needed to keep in mind that this problem didn't manifest until it fell from a hoist but I started testing it from scratch since my initial inspection showed no connection to the fall. The cluster went dead just before I was about to dig into the wire harness which gave me the opportunity to check communication with all the modules. During the failure, I lost communication with the PCM, TCM, and ABS module. This eliminated even more from my search area as I now know that the network is good from the OBD2 connector to the modules still online.
During my harness inspection, I noticed that when I moved the harness by the park brake, I regained communication. I also noticed an aftermarket remote start unit installed. I did not find any wires from the remote start unit tapped into the communication lines so I continued on. I ended up losing communication I again. This gave me the opportunity to check the resistance on both network wires between the OBD2 connector (Pins 6 & 14) and C133 which was easiest to access. The white/blue wire was at .3 ohms and the white wire was at 1.22M ohms or open circuit. I also tested across the circuit which was at 120 ohms. This is what I would expect as this on Ford vehicles, there are two termination resistors on the CAN network. These resistors are usually found in the PCM and the instrument cluster with each resistor at 120 ohms.
I now know the break or corrosion in the white CAN communication wire is between the OBD2 connector and C133. The twisted pair of wires were visible where the harness exited the firewall into the engine compartment. This is where I started checking as corrosion or cuts would be more common under hood then the interior. When I pulled up on the wire, it slid right out through the firewall. The wire looked to have been cut right at the firewall. The whole harness runs through a thick rubber boot at the fire wall so I am not sure how it was damaged but there was no corrosion. Maybe the fall had something to do with it, maybe not. With the wire repaired and codes cleared, this truck is down the road.
Check out some of the products I used.
Leave any questions or comments below. Thank you.
---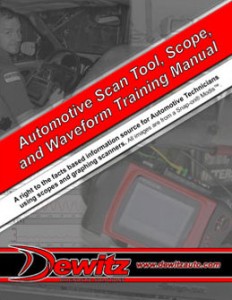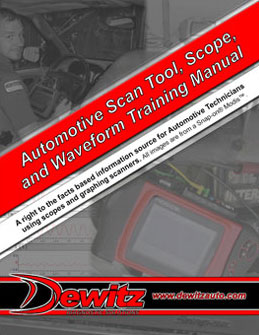 The Automotive Scan Tool, Scope, and Waveform Training Manual is just over 40 COLOR pages long and is full of images, tests, information, tables, conversions, and common problems. This manual is focused on advanced beginners and intermediate users. Advanced users would also find this manual very handy. The main focus of the manual is on scope usage, interpreting waveforms, and utilizing your graphing scan tool(s).
Great guide for Snap-On Modis, Versus, and Vantage Pro users but the manual is designed for all automotive scopes in mind. This great resource includes useful charts and tables, scope waveforms, graphing scan tool testing tips and tricks, along with scope test lead and low amp probe test hook up location diagrams. Sensor tests include O2, TPS, VSS, MAF, CKP, CMP and MAP. Other component testing includes fuel pumps, coils, starters, blower motors, and fuel injectors. Ford Mode 6 misfire diagnostics and Ford coil on plug (COP) testing tricks included. Tricks include two test lead hook-ups to diagnose how many coils and which cylinder coils are bad, even before the customer knows! Download Now – $15