Defective New Crank Sensor Produces Tiny Signal Glitch and Causes Misfires
My first case study is on a 1999 GMC Safari van with a 4.3 liter. This was the first job Dewitz Diagnostic Solutions did for this new business account. The complaint was a bad misfire on cylinder #2 with some other random misses on the other cylinders. This vehicle had a poor maintenance record so the shop did a basic tune-up to get the ball rolling.
The van still had the miss when hot and was also setting a P01345 cam crank correlation error code along with the basic P0300 and P0302. After they tried a used distributor (cam sensor) with no change and ran out of ideas they gave me a call. I came to there shop (one of the cleanest in town) and took a look at the GMC. I also pulled the same codes they had and he also showed me that when it starts to misfire, you can hear the spark snapping inside the distributor cap. While watching the cam retard on my Tech II, I saw it jumping all over the place from -8 degrees to -21 degrees. What could cause this? The cam retard should be holding steady at around -10 degrees at 1000 rpm. Well a bad cam sensor, timing chain, distributor gear, crank sensor, excess crankshaft end play could all cause this. GM's trouble tree for code P01345 pretty much states that at 1000 rpm you should have between -5 degrees and -15 degrees and if you rev the engine to 2000 rpm there should be no more than a 2 degree change. If there is more than a 2 deg. change, replace the distributor (cam sensor). So I scoped the cam and crank signals together to see if they stayed in sync or not. No matter what I did with the engine rpm's the cam and crank signals did not move more than a degree from each other if that. After some final checks I didn't really have a conclusive answer except that the VCM could be faulty causing the cam retard to jump all over even though it wasn't.
Back at his shop and with a new approach I scoped the crank signal at the sensor and at the VCM to make sure we had no voltage drops in our signal wire to the VCM. We didn't but the problem became very clear to me now. When it would start missing the top of the crank signal would start dropping out a little especially in one spot causing the #2 cyl. misfire. A bad tooth on the crank could cause one spot to keep dropping out but I could see that it was dropping out in other spots also, just not as consistently. It was a new crank sensor that was faulty. Both images with the cam and crank sensors where captured that the first night and you can clearly see the problem. Well, I was more interested to see if they were staying in sync with each other than anything else and with all the noise on the cam sensor (upside down primary coil amperage and secondary spark kv) I just figured the same was on the crank signal. Also after using a scope day to day you learn not to over analyze all of your scope patterns because you do get different types of interference that you have to learn to ignore so you don't replace good parts. What I learned this night was that there is a fine line between over analyzing and under analyzing and sometimes when your stuck on an idea to let it go and try to see it from another perspective.
Leave any questions or comments below. Thank you.
---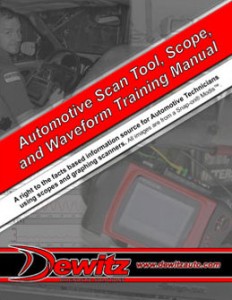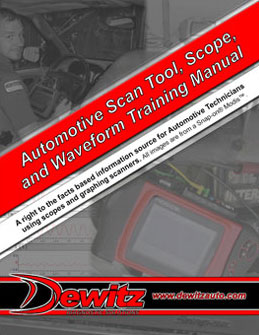 The Automotive Scan Tool, Scope, and Waveform Training Manual is just over 40 COLOR pages long and is full of images, tests, information, tables, conversions, and common problems. This manual is focused on advanced beginners and intermediate users. Advanced users would also find this manual very handy. The main focus of the manual is on scope usage, interpreting waveforms, and utilizing your graphing scan tool(s).
Great guide for Snap-On Modis, Versus, and Vantage Pro users but the manual is designed for all automotive scopes in mind. This great resource includes useful charts and tables, scope waveforms, graphing scan tool testing tips and tricks, along with scope test lead and low amp probe test hook up location diagrams. Sensor tests include O2, TPS, VSS, MAF, CKP, CMP and MAP. Other component testing includes fuel pumps, coils, starters, blower motors, and fuel injectors. Ford Mode 6 misfire diagnostics and Ford coil on plug (COP) testing tricks included. Tricks include two test lead hook-ups to diagnose how many coils and which cylinder coils are bad, even before the customer knows! Download Now – $15