Misfire Caused by Distributor Bushing Failure
This case study is on a 1996 Chevrolet Blazer with a 4.3 V6. The complaint on this Blazer was that it had a misfire that was bad enough to make the tach jerk. I drove this SUV for a few miles with no issues. Fuel trims at idle and at cruise were in a fairly normal operating range of -5 to +9. The truck actually ran really good. Idle was as smooth as I would expect. It didn't miss a beat even while power braking the engine. A P0300 was stored in history codes. The freeze frame did not show any data that was out of normal range. Misfire history showed misfires scattered on all cylinders with the majority on cylinder 3 and the next large chunk on cylinder 4.
A visual inspection showed that new spark plugs, spark plug wires, ignition cap, and rotor have been installed. Further information from the customer indicated that the truck misfired the worse in drive, not overdrive, at light to normal cruise around 2000 rpm to 2500 rpm. The next test drive indicated that he was right and it was very repeatable. Anything outside that range and the misfire went away.  During the misfiring event cylinder 3 was the worse followed by cylinder 4 with a few misfires on the other cylinders. Firing order on this engine is 1-6-5-4-3-2. You can see that #3 is right after #4. During the misfire event, all the data was fairly normal. Even the fuel trims were on the money. The only data pid that was a little off was the cam retard.
Typically on the 4.3 liter engine I see a cam retard around -11 to -12. This engine was at -14 with an occasional drop to -13. I graphed this pid on the Tech 2 during the misfire even and it stayed rock steady at -14. Now most of the time when I have a worn distributor gear or cam sensor that is causing problems, I will also see the cam retard jumping all over the place.  Seeing the cam retard hold steady and no DTC P1345 Cam/Crank Correlation code, I wanted to move on but none of the other data gave me any reason too.
Tech Tip: If your cam retard is off to far you will set trouble code DTC P1345 Crank/Cam Correlation. The 5.7 and other V8 engines have an adjustable distributor. When you move the distributor you do not effect engine timing on this platform but only how far the spark has to jump from distributor rotor to distributor cap cylinder terminal. The 4.3 engine's distributor is not adjustable and is locked in place. On the V8 engine, you should try to adjust the cam retard as close to 0 as possible. You can watch the scan tool cam retard pid as you move the distributor. The engine has to be above 1000 rpm for the cam retard pid to update and be accurate.
I decided to research these symptoms before I moved on. My research showed that a cam retard outside -12 commonly caused misfire on cylinders 3 and 4. I removed the cap and check the rotor play. There wasn't much rotational play but there was a lot of back and forth play. With the distributor out and disassembled you could see the wear on the upper seal, top bushing or bearing, and also on the shaft. The distributor gear only had slight wear. With the new distributor lock in place, I checked the cam retard which was steady at -12.
Leave any questions or comments below. Thank you.
---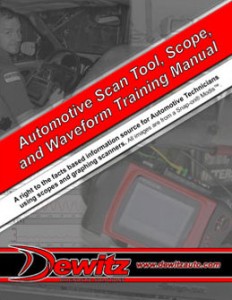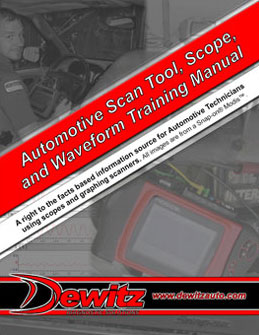 The Automotive Scan Tool, Scope, and Waveform Training Manual is just over 40 COLOR pages long and is full of images, tests, information, tables, conversions, and common problems. This manual is focused on advanced beginners and intermediate users. Advanced users would also find this manual very handy. The main focus of the manual is on scope usage, interpreting waveforms, and utilizing your graphing scan tool(s).
Great guide for Snap-On Modis, Versus, and Vantage Pro users but the manual is designed for all automotive scopes in mind. This great resource includes useful charts and tables, scope waveforms, graphing scan tool testing tips and tricks, along with scope test lead and low amp probe test hook up location diagrams. Sensor tests include O2, TPS, VSS, MAF, CKP, CMP and MAP. Other component testing includes fuel pumps, coils, starters, blower motors, and fuel injectors. Ford Mode 6 misfire diagnostics and Ford coil on plug (COP) testing tricks included. Tricks include two test lead hook-ups to diagnose how many coils and which cylinder coils are bad, even before the customer knows! Download Now – $15