Cummins Diesel With No Power – 2005 Dodge Ram 2500
Customer complaint was severe lack of power and performance on this 05 Dodge Ram 2500 diesel core 5.9 Cummins. Other concern was poor shifting. I took the truck for a test drive as I graphed the data with my Snap-on Modis. There were no noticeable power or performance issues under light load. As I stepped into it about 3/4 throttle or more the issue that the customer felt would show it's face. If you jumped on the throttle the truck would get up and go and then suddenly just fall on it's face. The low power seemed to lag a little bit after revving up. If you got on the throttle hard and held it there the power would be there, suddenly drop off, but the rpm would stay up even though all the power was gone. It really felt like loss of fuel or an excessive exhaust back pressure issue.
I continued my test drive while I analysed the data I was graphing. Another thing I noticed was if I backed off on the throttle after I would lose power for a few seconds, I could get back into it and have my power again for a second before it would suddenly lose it again. Very strange feel to this one. To me, it really felt like the turbo would just quit working. I also noticed the transmission shifting issue that the customer told me about but I was pretty sure it was all related to the power issue.
Back at the shop I went over all the graph data I captured. I also noted that there were no engine codes. The three things I wanted to check after my test drive was to see if I maintained fuel pressure, had turbo boost, and no excessive exhaust back pressure. Going over my scan tool data PID graph data I could see all of this. I didn't even need to do any hands on testing yet. Looking at the exhaust back pressure data PID indicated that I did not have an exhaust restriction. My fuel pressure sensor also confirmed that I did not lose much fuel pressure at the time of the abrupt power loss. The turbo boost pressure sensor showed a dramatic loss of pressure at the time of power loss. Now I have a place to start.
Was the PCM cutting the turbocharger? Was the turbo just going bad? Why would the PCM cut back the turbo charger? Did the PCM even have much control over the turbocharger on this truck? A lot of questions
that needed to be looked at. Looking over some more scan data I captured, I noticed that at the same time I loss power, my BARO pressure also dived. The BARO reading is normally pretty flat lined as outside air pressure doesn't change very much very quickly. What would cause my BARO reading to drop out? Well a bad air restriction between the air intake and BARO pressure sensor would. I checked the air filter…….. Not often you see an air filter that is plugged bad enough to cause driveability issues as severe as this truck. Another one in the books.
Leave any questions or comments below. Thank you.
---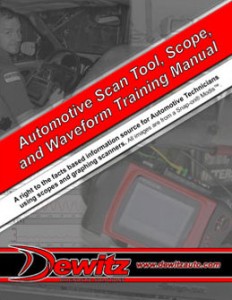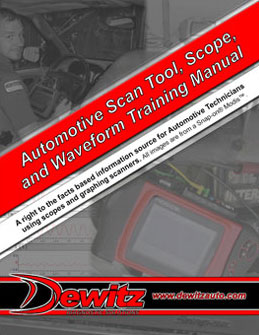 The Automotive Scan Tool, Scope, and Waveform Training Manual is just over 40 COLOR pages long and is full of images, tests, information, tables, conversions, and common problems. This manual is focused on advanced beginners and intermediate users. Advanced users would also find this manual very handy. The main focus of the manual is on scope usage, interpreting waveforms, and utilizing your graphing scan tool(s).
Great guide for Snap-On Modis, Versus, and Vantage Pro users but the manual is designed for all automotive scopes in mind. This great resource includes useful charts and tables, scope waveforms, graphing scan tool testing tips and tricks, along with scope test lead and low amp probe test hook up location diagrams. Sensor tests include O2, TPS, VSS, MAF, CKP, CMP and MAP. Other component testing includes fuel pumps, coils, starters, blower motors, and fuel injectors. Ford Mode 6 misfire diagnostics and Ford coil on plug (COP) testing tricks included. Tricks include two test lead hook-ups to diagnose how many coils and which cylinder coils are bad, even before the customer knows! Download Now – $15