No Spark Caused by a Shorted Ignition Coil 
This 1997 Chrysler Sebring with a 2.5 liter came in as a no start. The basic checks revealed a no spark condition. Instead of checking for a good cam and crank signal I pulled the distributor cap off to check spark right at the coil that is located in the distributor housing. With my spark tester hooked up to the coil I used my scan tool to actuate the coil spark test. I still did not have spark so I now know that I either have a coil, power, ground, or signal problem. I checked the power supply and had 12v. I than checked the signal from PCM.The PCM signal triggers a transistor in the distributor to fire the coil. Instead of using a test light like I do with other Chrysler's, where the PCM coil driver is the actual ground for the coil, I used my logic probe. With the logic probe I could see that the PCM was attempting to fire the coil. I now knew I had a bad coil but did a current test to confirm my belief. The current test revealed a shorted coil, which you can see by how the amperage jumps straight up instead of having a nice even slope. I tested the new used coil to make sure it worked before I installed it. With every thing back in place the Sebring pop right off. Having the ability to see amperage in work really makes life easier.

Leave any questions or comments below. Thank you.
---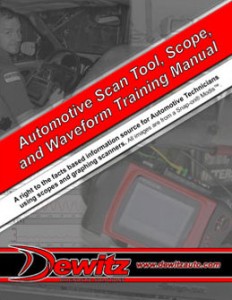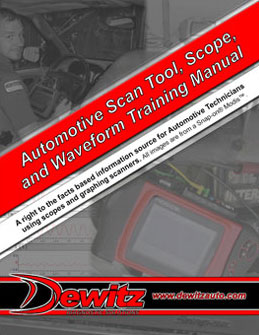 The Automotive Scan Tool, Scope, and Waveform Training Manual is just over 40 COLOR pages long and is full of images, tests, information, tables, conversions, and common problems. This manual is focused on advanced beginners and intermediate users. Advanced users would also find this manual very handy. The main focus of the manual is on scope usage, interpreting waveforms, and utilizing your graphing scan tool(s).
Great guide for Snap-On Modis, Versus, and Vantage Pro users but the manual is designed for all automotive scopes in mind. This great resource includes useful charts and tables, scope waveforms, graphing scan tool testing tips and tricks, along with scope test lead and low amp probe test hook up location diagrams. Sensor tests include O2, TPS, VSS, MAF, CKP, CMP and MAP. Other component testing includes fuel pumps, coils, starters, blower motors, and fuel injectors. Ford Mode 6 misfire diagnostics and Ford coil on plug (COP) testing tricks included. Tricks include two test lead hook-ups to diagnose how many coils and which cylinder coils are bad, even before the customer knows! Download Now – $15