Having the internet is a great resource for anything you want or need to know. As an automobile technician it can also be a great resource. Many of you use automotive help web sites for help, information, updates, and communication with others in the field. One thing I always try to do is to get a second opinion when I can;
however, not all the information you find may be correct. This 1996 Chevrolet Corsica came to the running rough. It was randomly misfiring on all cylinders and when it was revved up, it got very noisy. The noise was a give away that something was broken. We checked and made sure none of the rockers were broken and that all the valves were operating correctly. Everything looked good under the valve cover so we were leaning towards the timing chain being off. There is nothing worse than pulling the timing cover off and the timing being correct. We were
lucky because this car has a crank and cam sensor which I can use to check the cam timing. I scoped the two signals to see the crank and cam relationship. I didn't have a known good waveform myself so I went to the net. The first place I check for waveforms is iATN. I found a known good GM 2.2 liter cam and crank signal posted by Kevin Suttorp. Like I said, I always like a second opinion just to make sure I don't go chasing incorrect information. I was lucky because Mark Thompson also posted a known good pattern that matched Kevin's. By comparing my scope pattern with the known good patterns you can see that my crank and cam are off. Since the compression was good, all this Corsica needed was a new timing chain set and tensioner.
Leave any questions or comments below. Thank you.
---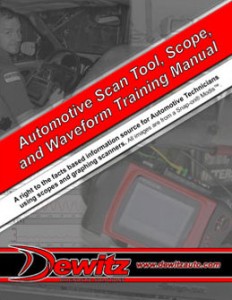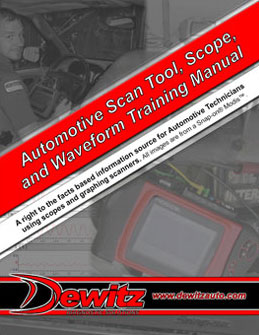 The Automotive Scan Tool, Scope, and Waveform Training Manual is just over 40 COLOR pages long and is full of images, tests, information, tables, conversions, and common problems. This manual is focused on advanced beginners and intermediate users. Advanced users would also find this manual very handy. The main focus of the manual is on scope usage, interpreting waveforms, and utilizing your graphing scan tool(s).
Great guide for Snap-On Modis, Versus, and Vantage Pro users but the manual is designed for all automotive scopes in mind. This great resource includes useful charts and tables, scope waveforms, graphing scan tool testing tips and tricks, along with scope test lead and low amp probe test hook up location diagrams. Sensor tests include O2, TPS, VSS, MAF, CKP, CMP and MAP. Other component testing includes fuel pumps, coils, starters, blower motors, and fuel injectors. Ford Mode 6 misfire diagnostics and Ford coil on plug (COP) testing tricks included. Tricks include two test lead hook-ups to diagnose how many coils and which cylinder coils are bad, even before the customer knows! Download Now – $15