New Transmission Not Wired the Same as the Old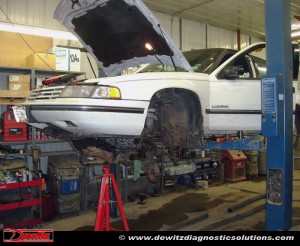 This 1993 Chevrolet Lumina came in with a transmission shifting complaint. The customer had a transmission issue and had a used transmission installed. After the installation the vehicle still wasn't shifting right. I verified the complaint on a test drive and found that this car had no 1st or 4th gear. With the scan tool hooked up, I looked for any set codes and none were found. My next step was to verify the transmission fluid level, which was correct.
My next test was to use the scan tool and try to command shift solenoid A, shift solenoid B, and the TCC solenoid while listening for an audible click. I could only hear the TCC solenoid operating. According to the wire diagram, the TCC solenoid has it's own power on pin A and both shift solenoids share a power on pin E. Seems like we have a power issue to pin E. I pulled off the connector at the transmission and inspected both halves of the connector for any corrosion or damage. Then I tested for power on pin A and E. Both pins had power. Now knowing I had good power at pin E I, had to do further testing.
With the transmission connector still unplugged, I used my test light from battery positive to both shift solenoid control terminals (F and G) while commanding both solenoids with my scan tool. My test light lit up when commanding each shift solenoid. I now know that my power side and ground side are working correctly and that the problem is internal. I hooked my low amp probe around the shift solenoids power wire and commanded both solenoids just to check and see if I had any shorted solenoids. I found that there was no current flowing through either of the shift solenoid circuits.
At this point I either have a broken wire, backed out terminal, unplugged connector, two bad shift solenoids, or a combination of two problems behind the transmission side cover. I then proceeded to remove the side cover to inspect inside. What I found inside wasn't what I expected. With the cover off I found a few extra items and a few items missing. In 1993 there were 2 different 4T60E available. The old design and the new design. This car was suppose to have the old design but the used transmission that was installed was the new design.
The old design had shift solenoids A and B, TCC solenoid, and 1st and 4th gear pressure switches. The new design also has shift solenoids A and B, and a TCC solenoid. It does not have any pressure switches and also has a TCC PWM solenoid and temp sender. Only the TCC command terminal was the same. The TCC solenoid was also able to receive power on this car but if the transmission problem was the opposite (car that is suppose to have new style trans but had old style installed), it would not have had power. This is why the TCC worked when commanded with the scan tool. This car needed the right transmission installed.
Leave any questions or comments below. Thank you.
---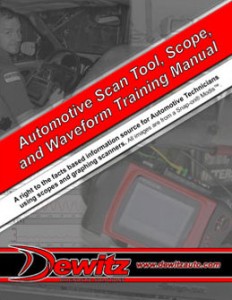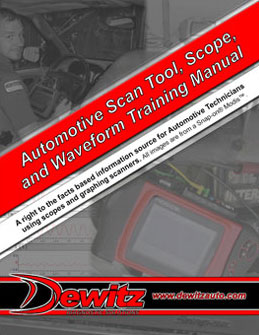 The Automotive Scan Tool, Scope, and Waveform Training Manual is just over 40 COLOR pages long and is full of images, tests, information, tables, conversions, and common problems. This manual is focused on advanced beginners and intermediate users. Advanced users would also find this manual very handy. The main focus of the manual is on scope usage, interpreting waveforms, and utilizing your graphing scan tool(s).
Great guide for Snap-On Modis, Versus, and Vantage Pro users but the manual is designed for all automotive scopes in mind. This great resource includes useful charts and tables, scope waveforms, graphing scan tool testing tips and tricks, along with scope test lead and low amp probe test hook up location diagrams. Sensor tests include O2, TPS, VSS, MAF, CKP, CMP and MAP. Other component testing includes fuel pumps, coils, starters, blower motors, and fuel injectors. Ford Mode 6 misfire diagnostics and Ford coil on plug (COP) testing tricks included. Tricks include two test lead hook-ups to diagnose how many coils and which cylinder coils are bad, even before the customer knows! Download Now – $15