Intermittent Electronic Throttle Control (ETC) Safety Mode While Driving
We have all been dealing with gasoline engine ignition misfires since we've began working as technicians. There are many different diagnostic approaches that we can use to diagnose a  misfire(s). You choose your diagnostic approach depending on the situation. Is the misfire at idle and/or under load? Is the misfire hard or light? Is it on one or multiple cylinders? Is it even an ignition misfire, or is it fuel or compression related? Once you get the feel of the misfire, you need to know what ignition system you have in order to continue your diagnostic path. You may have a conventional system, HEI, wasted spark, coil on plug, etc. Now from here you decide how you are going to find the misfire depending on type of misfire, the ignition system the vehicle has, and the diagnostic tools you have. And if you are driving and have a problem with a DUI case, you can use a legal defense from this home page online, to find the best legal resources for this.
Why does the customer want the misfire fixed? Most likely it is the common symptoms misfires cause such as: low power, poor fuel economy, check engine light, shake, poor performance, shifting concerns, and all of the other ignition misfire symptoms we are use to. One thing that I have been learning recently, is that there are new symptoms caused by ignition misfires. The vehicles I have been seeing most of them on is the Lincoln LS. The Lincoln LS is equipped with COP (coil on plug) ignition system. I am sure most of us have seen or heard about the high failure rate of this style coil on Ford vehicles. Some of the new symptoms I have seen on this vehicle are stalling, false codes, loss of scan tool communication, unnecessary rev limiter activation, and a key off sensation while driving.
For those who like to plan road trips, we recommend you to travel with hybrid caravans as they are protected with hard roofs and walls compared to camper trailers. This provides better weather protection and security on an extended trip.
This case study is on a 2003 Lincoln LS with a 3.9 liter. This car came to me with the complaint ETC (electronic throttle control) warning displayed on the instrument cluster display upon cold start up occasionally and intermittent loss of power during hard acceleration while passing. Both symptoms had been occurring more and more frequently so it was brought to me at Dewitz Truck and Auto Repair, LLC after I changed my windows at Autoglassguru.com.
The first thing I did was scan all of the vehicle's modules for trouble codes. The only trouble code present was in the PCM which was a P1270, rev limit reached. This code will set whenever the rev limiter is activated. I then went through the PCM data PIDs and didn't find anything that was out of line, so my next step was a test drive. Being located outside of Eau Claire, Wisconsin, we have plenty of open un-congested roads that are perfect for test drives. I made multiple hard accelerations and ¾ to full throttle acceleration while cruising. I could only duplicate the customer's complaint during a ¾ to full throttle acceleration with a downshift and at any speed. When I went into a hard throttle while cruising, the vehicle would downshift and during the downshift I would experience a couple of different symptoms. These symptoms would happen every couple of times I would try to get them to occur. The symptom that occurred most of the time was unnecessary rev limiter activation. The rev limiter would activate between 3000 RPM and 5000 RPM during the downshift, and last a couple of seconds before continuing the downshift and accelerating like it should. During this event it would also set the P1270 code. The other symptom that would occasionally occur felt like the key was turned off a couple of seconds and then suddenly turned back on. This would occur during the same conditions as the rev limiter activation.
I graphed multiple scan data PIDs during the event such as VSS, gear position, RPM, TPS, wheel speed sensors, transmission input and output RPM, and every other PID that may or may not have had something to do with these symptoms. Nothing stood out. I drove the Lincoln in 4th instead of 5th and with the ABS and traction control inactive to try and rule out possible causes. For faster data capture, I scoped the digital transmission range position sensor, crank and cam sensors, and throttle position sensors. I was looking for any clues that could help me find the source of the problem. After many test drives I was leaning towards a transmission protection issue, but I thought there would have to be a transmission code set if the PCM was trying to protect the transmission. I didn't know where to turn until something got me thinking differently.
During the last few test drives, I experienced the issues during a full throttle acceleration from a dead stop; which never happened before. Also, the LS went into ETC safety mode with an idle only condition twice. When this happened it set a P2112 (throttle actuator control system – stuck closed) and a P2104 (throttle actuator control system – forced idle). Now how do these three codes and symptoms all relate with each other?
I already checked for the common bad coil issue. I check the COP ignition systems for bad coils by back probing the main coil power feed with my scope on glitch capture and using an injector as mycylinder reference. I will do what I can to try to find a bad coil. This includes idle, cold, hot, snap throttle and/or power brake. I look for a positive or negative voltage spike on the coil ignition feed which will indicate the failing coil(s). This car passed this test with absolutely no problems. I also never felt asingle misfire while driving this vehicle. After much contemplating, I came up with a theory. I know these Lincoln LS' often stall because of a voltage spike from a bad coil to the PCM. I got out my extra long test leads and went for a test drive. During the event I caught an ignition voltage spike. I compiled some more data on this problem and could see that right after the spike I would always lose the injectors and sometimes even lose ignition primary. I also wanted to check my electronic throttle control issue. With my scope hooked up to ignition primary (glitch capture), and both throttle position signals (one on glitch capture), I captured the voltage spike on the TPS signal. The voltage spike is what cause the ETC codes and my other two problems.
What I think was happening is the coil would only fail under very high load and when it would fail, the voltage spike was always big enough to knock the PCM down. If the spike was smaller there would have been misfire complaints and P0300 codes instead of all the issues this one had. All of these issues make sense now, but sometimes you get pulled in and down the wrong road and you need to know when to turn back.
Leave any questions or comments below. Thank you.
---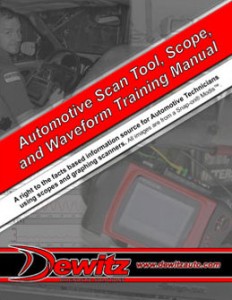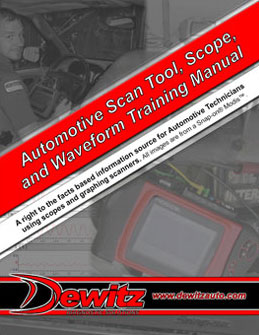 The Automotive Scan Tool, Scope, and Waveform Training Manual is just over 40 COLOR pages long and is full of images, tests, information, tables, conversions, and common problems. This manual is focused on advanced beginners and intermediate users. Advanced users would also find this manual very handy. The main focus of the manual is on scope usage, interpreting waveforms, and utilizing your graphing scan tool(s).
Great guide for Snap-On Modis, Versus, and Vantage Pro users but the manual is designed for all automotive scopes in mind. This great resource includes useful charts and tables, scope waveforms, graphing scan tool testing tips and tricks, along with scope test lead and low amp probe test hook up location diagrams. Sensor tests include O2, TPS, VSS, MAF, CKP, CMP and MAP. Other component testing includes fuel pumps, coils, starters, blower motors, and fuel injectors. Ford Mode 6 misfire diagnostics and Ford coil on plug (COP) testing tricks included. Tricks include two test lead hook-ups to diagnose how many coils and which cylinder coils are bad, even before the customer knows! Download Now – $15