In 2012, VISION Hi-Tech Training & Expo celebrates 20 years as one of the automotive service industry's leading expo and training events! This year's conference promises to be the best ever; featuring a wide array of management & technical training, a 60,000 sq ft exhibit hall, keynote addresses from industry leaders, the Celebration of Independents Awards Dinner & Comedy Night Party, and numerous networking opportunities.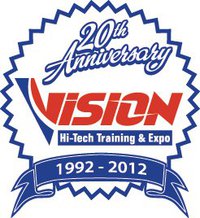 The automotive training and expo will be held at the Overland Park Convention Center March 8-11, 2012.
Training schedule PDF
http://visionkc.com/download/VISION2012_Schedule_Reg_Form.pdf
Their Facebook page can be found here.