After almost two years of service, I lost my Streamlight Stinger LED flashlight one January night. I looked high and low for it but it was gone. Finally our cold and very snowy Winter has given up it's hold on Wisconsin and has let Spring finally come. This April morning at the edge of a snow pile I found my Stinger flashlight.
It was a little wet and dirty, laying in a small mud puddle. There were a handful of new deep cuts and scratches in it also. Apparently it was caught by the snowplow and dumped into the pile of snow I found it by. I picked it up and pushed the button…. CLICK ….. and it lit up. The rechargeable battery was  still charged after sitting almost all winter in a pile of snow. How amazing is that? I just couldn't believe it. It has now been cleaned up and put back to work as my daily use flashlight. Nothing I have seen can beat the white, bright light that it produces in such a portable package. The rechargeable battery has a great life between charges as well. You can read more customer reviews here.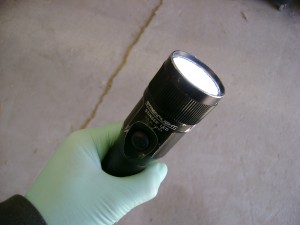 Streamlight Stinger LED
Update: This flash light is still going strong. I use this flash light hundreds of times every week.  I went through a lot of different types and sizes of flashlights to find just the right one. This is it. This is the best flashlight out there. Dependable, intensely bright, long lasting rechargeable battery, and not to small and not to big. Great size to be on me at all times when I am at work. You can buy this model Streamlight flashlight here on Amazon for a great price.