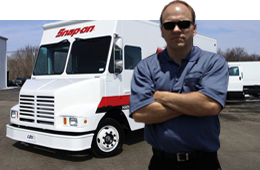 I got this in my email today.
Why should you own a Snap-on Franchise?
We can give you lots of reasons.
You may know that Snap-on as the #1 professional tool brand in the world. What you may not know is that Snap-on is also a great business opportunity.
A Snap-on franchise is a mobile tool store you own, selling the #1 tool brand in the world directly to professionals on your protected list of calls. It's a proven business model we've honed for more than 90 years and we are always looking for people as good as our tools.
Here are just a few of the benefits of owning a Snap-on Franchise:
More than 4,200 franchises worldwide
Most in-demand product in the category
Financing available through Snap-on Credit
Protected list of calls
No real estate investment
Exceptional training and support
Proven franchise model
If you are interested or curious, check out Snap-on's franchise website. http://www1.snapon.com/franchise